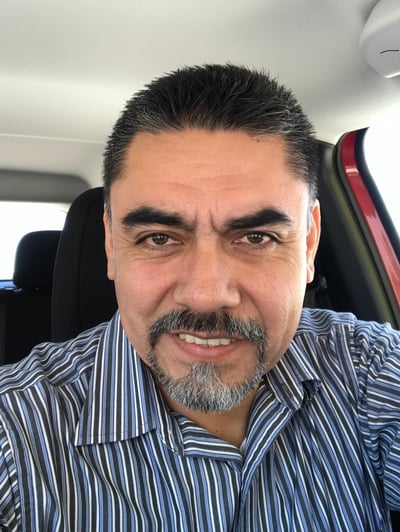 DAYTON, Ohio—(May 2, 2018) AIMS Metrology named Jose Luis Duarte business development manager for Mexico and Central America. The coordinate measuring machine OEM is expanding its reach in Mexico and the southernmost region of North America to help automotive and aerospace manufacturers eliminate production bottlenecks, boost part quality and minimize maintenance costs. AIMS builds and assembles its Revolution Series CMMs in the U.S., and equips the machines with Renishaw 5-axis scanning and touch trigger probes for higher throughput and accuracy.
"Customers are asking for better part quality and shorter delivery schedules," says Duarte. "But manufacturers acknowledge that conventional CMMs are often a choke point. Maintenance is expensive and service support lacking. AIMS CMMs are engineered to boost throughput and improve inspection ratings. Service and support are also critical components for AIMS."
AIMS' laboratory-grade Revolution LM can be fitted for touch or non-contact inspection. Unlike other systems on the market, the LM features Renishaw's REVO 2, the industry's most advanced scanning probe. The precision measuring head and probe system triple productivity, collecting data at a rate of 4,000 points per second. Infinite positioning and 5-axis motion allows users to access complex features while flexible tip sensing enhances accuracy. The SFP2 surface finish probe increases the REVO system's surface finish measurement ability.
For 5-axis touch trigger applications, the LM is also available with Renishaw's PH20 which increases throughput three times faster than traditional indexing heads, offers faster calibration and infinite positioning. Linear motors provide submicron accuracy while eliminating the maintenance and downtime associated with belt and pulley designs. Modus software supports offline programming, true 5-axis measurement programs, full simulation, crash detection and the capability to leverage large amounts of product information.
The Revolution HB is also built with Renishaw's 5-axis PH20 and is the only mobile 5-axis CMM on the market. A unique undercarriage equipped with one steer and two stationary wheels allows two operators to easily move the unit anywhere on the shop floor. A 110/220 volt outlet eliminates the need for shop air. A polymer-cast base includes built-in vibration resistance and thermal stability. Mechanical bearings add additional protection from the harsh shop floor environment.
AIMS is ISO/IEC 17025:2005 accredited for calibration from the ANSI-ASQ National Accreditation Board. ISO/IEC 17025:2005 covers testing and calibration performed using standard, non-standard and laboratory-developed methods. The company also provides regional customer support and training services. AIMS was founded in 2009 to equip the industry with the tools to perform accurate, flexible three-dimensional inspection for in-process and post process parts. In 2015 the Dayton, Ohio-based OEM launched its line of Revolution LM and HB series coordinate measuring machines designed and engineered to introduce and bring Renishaw 5-axis measurement technology to the shop floor and the laboratory. AIMS' Revolution line of CMMs are exclusively supported by Renishaw technology through probe heads, touch probes, scanning probes, incremental encoder scale systems, change racks, styli, controls, and Modus software. Faster measuring speeds, enhanced accuracy, higher throughput and lower cost of ownership make the Revolution series products especially suited for the quality control process demands of efficiency-driven manufacturers and the growing number of smart factories and automated operations. In addition to matching customer requirements with the right turnkey CMM system, AIMS provides installation, service/support and training. Machine retrofits and refurbished equipment are also available.
For more information visit www.aimsmetrology.com or contact Business Development Manager Jose Luis Duarte at jduarte@aimsmetrology.com