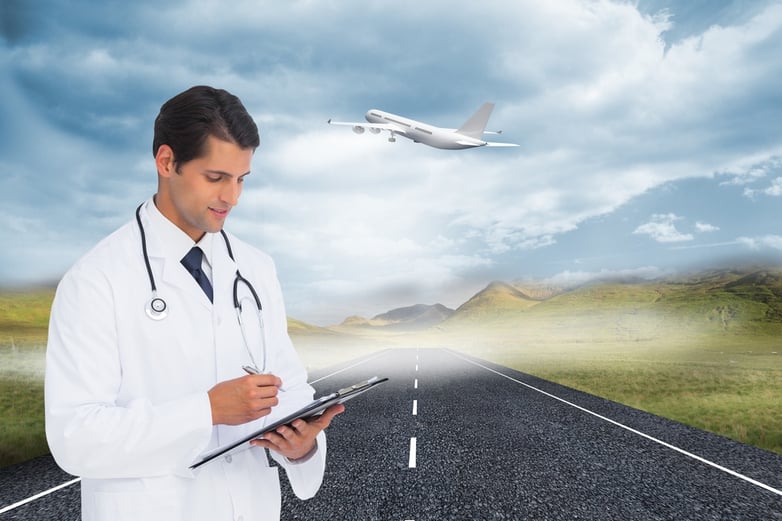 If you're a regular reader, you know we've recently explored the automobile, airplane and medical device markets and the way these manufacturers use CMMs. We've summarized some of those key points as well as some additional information into a new ebook, which we'd like to introduce with this blog. Let's start with the airline industry!
Lower fuel costs and strong numbers for airline traffic are propelling profits in a direction that is expected to drive increased large commercial aircraft production through 2018. According to Deloitte, emerging technologies are also expected to boost growth. Additive manufacturing is being used to design and produce a range of products, from complex engine and wing components to simple, custom parts like armrests and food trays. Sensors attached to aircraft components are making it possible for information to be collected and analyzed from machine-to-machine and machine-to-human interfaces.
Coordinate measuring machines are taking on a more prominent role. Faster deliveries and tighter accuracies for the thousands of mechanical parts that must be inspected before assembly means CMMs have to be faster and more accurate. But that's not the only challenge. Form and surface finish dictate the type of inspection to be performed. And as you know, the aerospace and defense market isn't the only arena with a growing demand for CMMs with 5-axis touch probe and scanning capabilities
Increased availability of healthcare, advances in real-time analytics, the Industrial Internet of Things (IIoT) and the integration of evolving technologies is also driving strong growth and rapid changes for medical device manufacturers. The global market for outsourcing these components is expected to reach $40.8 billion by 2018. Hip and knee implants account for more than 85 percent of the joint reconstruction and replacement market. As a result, the pressure to accelerate design and production to move products to market faster, more efficiently and more cost effectively is escalating. Statistics show that orthopedic devices are leading outsourcing to contract manufacturers, followed by cardiology. A May 2017 Emergo survey found that smaller medical device companies (less than 50 employees) are planning more aggressive R&D investments over the next 12 months. Of the 543 medical device executives surveyed in North America, Europe and Asia, more than 70 percent expect to begin research and development work on new devices. A similar number of companies reported plans to start selling new devices and upgrade existing product lines.
Disruptive practices are reshaping the way automotive parts are manufactured and expanding the need for inspection technologies that can ensure stricter quality standards are met. Metrology support is in demand for the growing production of electric vehicles as well. In 2016 global electric car sales surpassed 2 million for the first time. Volvo recently announced that by 2019, all of the engines it produces will have an electric motor. Monetisation of big car data is estimated to reach $750 billion by 2030. As part of the Internet of Things (IoT), more cars are being built with internet connections.
Manufacturers in these arenas that want to keep up need to consider working with an OEM that can provide 5-axis lab grade and mobile CMMs as well as a range of custom gauge choices. Check out our e-book to gain a better understanding of these markets, what type of CMM application is best suited to different part types and how CMMs will fit into the smart supply chain.