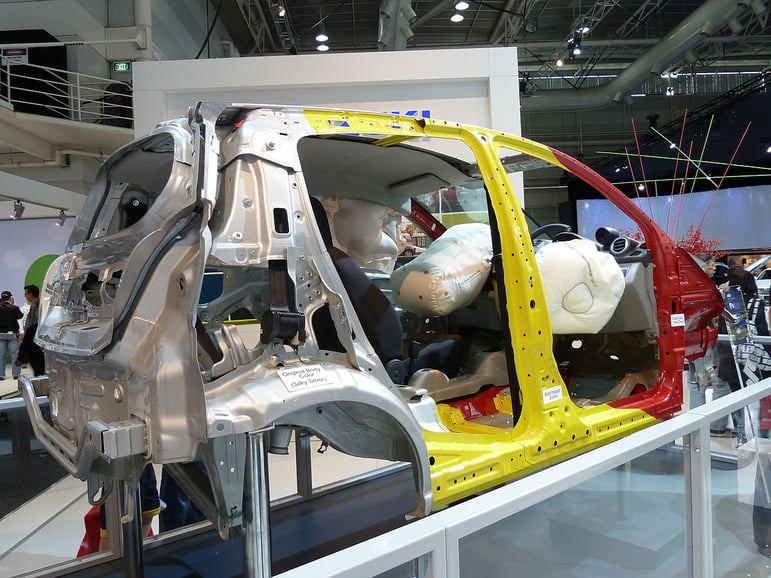 Photo courtesy of OSX, https://commons.wikimedia.org/w/index.php?curid=12890947
In the 1982 blockbuster E.T. the Extra-Terrestrial, Elliott utters the memorable line, "One thing. I have absolute power. Say it," just before he introduces E.T. to his brother Michael. Car makers are also asking for accurate absolute measurements, especially when it comes to Body in White (BIW) assembly.
According to Wikipedia, "Body in white or BIW refers to the stage in automobile manufacturing in which a car body's sheet metal components have been welded together. BIW is termed before painting & before moving parts (doors, hoods, and deck lids as well as fenders), the engine, chassis sub-assemblies or trim (glass, seats, upholstery, electronics, etc.) have been assembled in the frame structure." As you can see, BIW involves many parts, and metrology plays a key role.
October 2017 marks the 104th anniversary of the first moving assembly line. Launched by Henry Ford and his Highland Park team, the concept, according to Ford, "simplified assembly of the Ford Model T's 3,000 parts by breaking it into 84 distinct steps performed by groups of workers as a rope pulled the vehicle chassis down the line."
Assembly lines have changed dramatically since the days of the rope-driven production line. Quality methods and requirements have also changed. Continuous monitoring of measurements for products and processes on the automotive production floor is crucial. Car makers also feel the pressure to reduce costs and raise quality standards even further. BIW assembly in particular falls under intense scrutiny because of the myriad items - hole, slot and stud locations, welding lines, flush and gap verification for door and hinge lines in trim and finish and a host of other features - that have to pass muster.
In addition, material trends to lightweight the car body have become more aggressive and more complex. According to a recent report from the Center for Automotive Research, "BIW shows slight growth for ultra-high strength steel (UHSS) over advanced high strength steel (AHSS), but significant growth for aluminum. Aluminum has the most significant opportunity, growing by about 70 percent from current use if vehicles are to become 15 percent lighter but composite use is also anticipated to grow significantly with the 10 percent and 15 percent levels of lightweighting."
Coordinate measuring machines can provide absolute measurements in the laboratory but suppliers are expressing concern about the extra time it takes to remove a vehicle from the line, fixture it and then position it in a conventional CMM for measuring. Under these conditions a CMM can inspect approximately two vehicles during a work shift. Traditional inline systems can be equally problematic because they can require as many as 100 fixed sensors individually trained on targeted vehicle features. Because sensors typically generate data tracking the presence/absence of features in a predefined reference frame, absolute measurement is not possible. Fixed sensors are ineffective when it comes to flexible assembly lines capable of producing different types and styles of vehicles. Keeping pace with production is also challenging.
And production is on the increase. Electrek reported in April that Tesla alone achieved record deliveries and production during the first three months of 2017: "Approximately 13,450 were Model S and approximately 11,550 were Model X. The company is on track to achieve the higher-end of its delivery goal of 47,000 to 50,000 vehicles for the first half of the year."
One multi-solution CMM can provide lab-grade absolute measurements yet deliver the efficiency and freedom of an inline system. The Revolution Series LM's precision measuring head (made by Renishaw) can collect massive amounts of data quickly as well as provide infinite positioning and 5-axis motion, the key to achieving optimal output. If a touch trigger probe is required, a 5-axis probe can provide throughput that is three times faster than traditional indexing heads.
For automation or inline applications, the CMM can be combined with a comparator to measure parts in real time. The configuration helps operators recoup production time previously lost with conventional systems. In an automated line for example, the CMM is able to send data to the comparator which measures the part a robot has removed from production. This allows the device to 'talk' to the machining center, make absolute dimensional part feature checks and provide real time adjustments. With CAD design software support, the CMM can carry out measurements in point-to-point mode, either with contact sensors or via its connection with the comparator.
So, to increase throughput during the vital Body in White production stage, think outside the conventional CMM box.