To read the full story on SME, please click here.
In 2016, Honda Transmission, an automotive OEM based in Russells Point, Ohio, began looking for ways to update their quality inspection methods. Inspections were made using a hard fixture with bar gages, which was costly and took too much time. On top of that, they also couldn't collect live data.
So, Honda Transmission began looking into purchasing a CMM, which would allow them to collect data points and provide feedback in real time. They decided on purchasing a Revolution® series HB CMM from AIMS Metrology, along with a five-axis PH20 probe head. The CMM was locally built, and Honda wanted a company that would provide a level of service that they didn't think a more corporate-feeling company could. In working with AIMS, Honda Transmission was able to eliminate their dependence on gages and improved best quality practices for part inspection.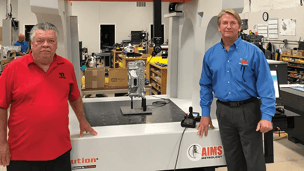 Later, when Honda Transmission reached volume capacity on the HB, they decided that another, larger CMM would be necessary. Larger parts were coming in and they needed extra room to accommodate a robot head and gripper (which would allow them to automate inspection). However, such a CMM didn't exist on the marketplace, which was when they turned once again to AIMS Metrology, who began developing the new Summit 10.10.10 CMM. A stiffened Z axis for supporting the REVO-2 probe head that Honda Transmission needed, linear motors, a polymer base, and temperature compensation were all incorporated in the new large CMM.
With a workpiece weight capacity of 2,200 kg, the Summit is not mobile, but was made to conserve space. It can also work with a robotic load/unload system or different types of processes that use conveyors, and can be equipped with automatic adjustment to handle tool wear and tear.
Please visit SME here to read the full story. For information on Honda Transmission Manufacturing of America, visit htm.honda.com or phone 937-843-5555. For information on AIMS Metrology, visit www.aimsmetrology.com or phone 937-320-4930.