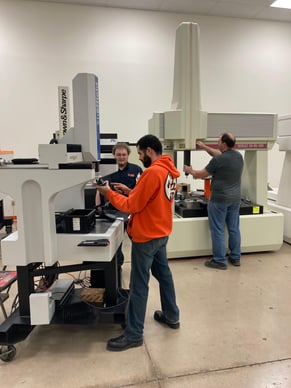 We've all heard it—that persuasive argument that attempts to coax us into replacing our cell phone because the newest model has a better camera, longer battery life, or faster chip. Consumer products typically are phased out on a regular basis to make room for their new and improved counterparts. Job shops and manufacturers also struggle to balance legacy machines with new capital equipment purchases including coordinate measuring machines (CMM).
Expanding digitization, more efficient use of materials, stricter quality specifications and growing demand for 100 percent inspection, have pushed CMMs into a role that is larger than ever. Supply chain disruptions, inflation, labor shortages and economic uncertainties have job shops and fabricators looking for ways to automate inspection, collect data and boost throughput. Some companies wonder if the capability to quickly and accurately analyze complex parts during processing cycles means retiring legacy equipment for a new CMM. We don't think so.
Typically OEMs and Tier 1 suppliers use a CMM until the machine can be devalued to zero before replacing it. Job shops, Tier 2 and Tier 3 suppliers tend to be more cost-conscious.
AIMS Metrology has taken a series of steps to give machine shops and small to medium-sized suppliers access to competitively priced CMM solutions. Its subsidiaries CMI Technology Inc. and Measurement Specialties Inc., give the OEM's team of engineers tribal knowledge of CMMS across multiple brands.
The OEM provides a full range of retrofit and upgrade services for all makes and models of CMMs. If a CMM still supports a shop's product needs AIMS can retrofit or upgrade the equipment by replacing the software, controller, and probe. A job shop can save approximately 80 percent by retrofitting legacy equipment versus making a new equipment purchase. This approach allows a company to gain the performance advantages it needs and reduce the cost of ownership.
In addition to an uptick in retrofits and upgrades, AIMS has also seen increased quarterly activity for new CMM sales. Its' Revolution HB and LM Series provides 5-axis inspection of in-process and post-process parts. In 2020, the OEM introduced its 5-axis multisensory Summit 10.10.10 for high volume, large parts inspection.
AIMS' Revolution Series CMMs share technology that is similar to the Sheffield line. For example, the Sheffield Endeavor CMM uses linear motor technology like that of AIMS' lab-grade LM. The Sheffield Apollo has been engineered with a center drive design that gives the CMM durability. The Apollo is one of the longest-lasting machines on the market. With the right support and upgrades, these CMMs can run as well today as they did fresh off the production floor.
Growing demand for complex parts, 3D shapes, and cosmetic surfaces continues to make automation and non-contact inspection attractive. AIMS' CMMs can be automated for lights out operation. Its 5-axis mobile HB can also be moved anywhere in the manufacturing process to collect information on the fly. Automating CMMs can also reduce scrap. A CMM like the Summit can feed data back to a machine tool that is cutting chips for example. As the tool wears, it can cause a part hole or other features to change in size. Real time feedback allows a machine tool to automatically adjust the offset to maintain required specifications. The Revolution series CMMs equip manufacturers to measure and collect data and track trends that indicate when a machine tool should be serviced. Whether a job shop invests in a new machine or opts for a retrofit or upgrade, they have the flexibility to make the right choice without compromising quality.