Originally published by Today's Motor Vehicles at http://www.todaysmotorvehicles.com/product/aims-linear-motor-driven-cmm-renishaw-082216/.
August 22, 2016. Dayton, Ohio - AIMS Metrology will feature coordinate measuring machines engineered to raise throughput and reduce operation costs while maintaining submicron accuracy at IMTS 2016, Booth #E-5836. The OEM manufactures, assembles and ships its machines from its recently expanded Dayton, Ohio facility and provides comprehensive service support. AIMS will demonstrate its Revolution LM series which employs linear motors with a Renishaw REVO 5-axis scanning system. AIMS also recently introduced its Revolution Series HB Shop Floor CMM. Designed and built around Renishaw's 5-axis technology, the Revolution HB is the only mobile 5-axis CMM on the market. Both models are especially suited to the needs of the medical, automotive, and aerospace markets.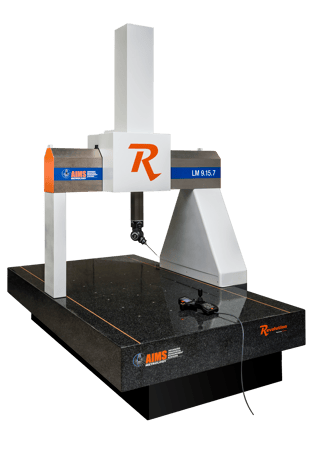 "We noted that manufacturers were experiencing downtime due to part wear and tear," says AIMS Co-owner Mark Gearding. "Unlike conventional machines with belts and pulleys, we chose to design our LM model with linear motors. It's the only CMM on the market that uses this configuration. For manufacturers that need a laboratory grade CMM, it means virtually no maintenance, less downtime and a positioning accuracy in the submicron range. The marketplace continues to demand an equipment solution that can give users lower cost of ownership. AIMS has provided that solution through the LM line of machines which are exclusively supported by Renishaw REVO technology."
Speed is another critical factor for manufacturers today. Parts are becoming more complex with tighter tolerances while customer lead times continue to shrink. Because the Revolution Series HB brings 5-axis measuring capability to the production floor it can cut inspection time from days to minutes. AIMS engineers will also be available to talk about the OEM's total aftermarket support program and retrofit services along with Renishaw MODUS software.
AIMS was founded in 2009 to equip the industry with the tools to perform accurate, flexible three-dimensional inspection for in-process and post process parts. In 2015 the Dayton, Ohio-based OEM launched its line of Revolution LM and HB series coordinate measuring machines designed and engineered to introduce and bring Renishaw 5-axis measurement technology to the shop floor and the laboratory. AIMS' Revolution line of CMMs are exclusively supported by Renishaw technology through probe heads, touch probes, scanning probes, incremental encoder scale systems, change racks, styli, controls, and Modus software. Faster measuring speeds, enhanced accuracy, higher throughput and lower cost of ownership make the Revolution series products especially suited for the quality control process demands of efficiency-driven manufacturers and the growing number of smart factories and automated operations. In addition to matching customer requirements with the right turnkey CMM system, AIMS provides installation, service/support and training. Machine retrofits and refurbished equipment are also available.