DAYTON, Ohio—(September 17, 2021) AIMS Metrology, a 5-axis coordinate measuring machine OEM, appointed John Bishop regional sales manager. He will provide service and support for customers in Tennessee, Georgia, Alabama, Mississippi, Louisiana, Arkansas and Missouri. Bishop has more than 20 years of experience in the metrology industry.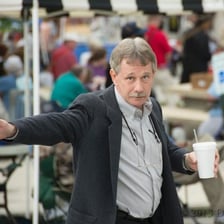 "Adding a sales manager that has both metrology and engineering experience helps customers understand the advantages of matching their part requirements with the right combination of software and 5-axis measurement and inspection technology," says Dave Delph, president and co-owner of AIMS.
"Problem-solving is one of the primary skill sets customers look for," Bishop says. "They want someone who knows how to read a blueprint and program and run the CMM. Helping customers become comfortable with the CMM's software is equally important. Our software packages use icons to make program selection easy."
AIMS designs and manufactures coordinate measuring machines with Renishaw 5-axis multisensor probes for accurate, three-dimensional inspection of in-process and post process parts. The OEM's Revolution Series LM, HB and Summit 10.10.10 have been engineered for the shop floor, lab and automated applications in smart factory settings. The CMMs use Renishaw probe heads, touch probes, scanning probes, incremental encoder scale systems and controls. A range of software options from Modus and CMM Manager to Verisurf's 2021 CMM Programming and Inspection Suite equip the CMMs for integration with IIoT practices. In addition to building a network of distributors, AIMS acquired CMI Technologies in 2016, to enhance quality control and delivery timeframes for CMM parts. With the purchase of Measurement Specialties Inc., AIMS expanded its footprint for calibration, certification and CMM programming, along with retrofitting and repair services. AIMS is ISO/IEC 17025:2005 certified by the ANSI-ASQ National Accreditation Board.
For more information visit www.aimsmetrology.com or contact John Bishop at jbishop@aimsmetrology.com