Convergence: Mobile Measuring on the Shop Floor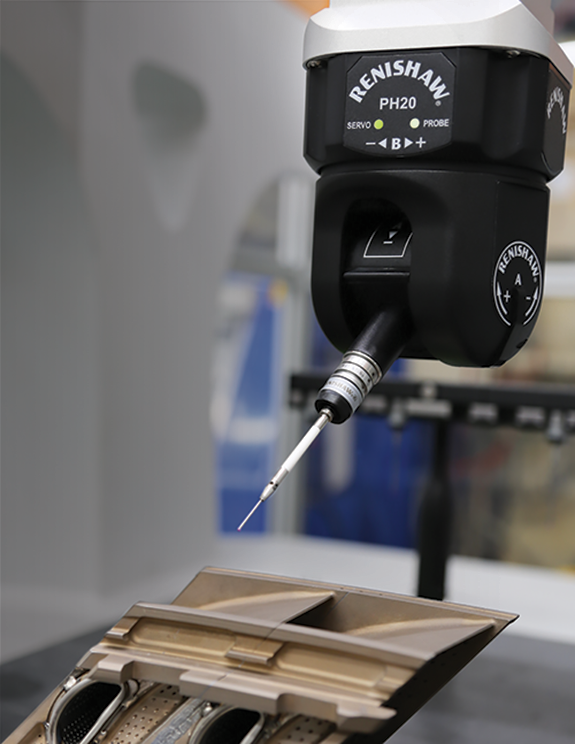 The Revolution HB from AIMS anchors the Renishaw 5-axis PH20 touch-trigger indexing head and probe with a vibration-resistant base as it quickly scans and performs discrete point measurements on parts like this aerospace component. Courtesy of FF Journal.

Written by Lynn Stanley
Until recently, conventional 3-axis CMMs proved largely sufficient. A probe attached to a third moving axis measured a part's physical characteristics. But slower cycle times, limited flexibility [5 to 7 1/2 degrees of polarity] and lack of mobility have proved problematic in an Industry 4.0 environment.
Custom gauges—another type of measurement instrument—are less attractive since they inspect only the part they are designed for and come with a relatively high price tag.
Advanced Industrial Measurement Systems (AIMS), a Miamisburg, Ohio, company, observed the need for versatile, cost-effective CMMs that could help manufacturers process big data and perform complex part inspection in a smart factory environment.
To do that, AIMS paired its machine designs with Renishaw Plc's 5-axis measurement systems. The British engineering firm pioneered the first articulating probe head and the first 5-axis probing system, among other inventions.
Timing is everything
"I believed that Renishaw was the best product developer and most innovative company in the industry," says Dave Delph, president of AIMS. The combination allowed AIMS to design and build its Revolution HB model CMM around Renishaw's 5-axis PH20 touch-trigger indexing head and probe. "It's the only mobile 5-axis CMM in the industry," says AIMS executive vice president Mark Gearding.
The matchup puts an inspection and intelligence-gathering tool into the hands of manufacturers at just the right time. "Increasing labor rates and poor quality control overseas is driving manufacturing back to the U.S.," says Dan Skulan, Renishaw national sales manager. "We need efficient operations to support this reshoring. Automation allows companies to make more parts with fewer people. CMMs with 5-axis technology also make it possible for us to do more with less. The combination of AIMS' HB with Renishaw's PH20 supports the move toward automation and enables components of Industry 4.0, like data collection and analysis."
Unlike conventional CMM 3-axis touch-trigger measurement methods, which attempt to speed up the motion of the machine's 3-axes to measure pieces more rapidly, the PH20's "head touches" obtain measurements by moving only the head. The rigidity of the HB's polymer cast, vibration-resistant base anchors the probe head. The result is rapid throughput and greater accuracy.
"Shops need the ability to understand their processes by collecting data that directly reflects what is happening," Skulan says. "From raw material to a finished workpiece—an automotive part, for example—may undergo anywhere from five to 25 processes. The HB monitors the process flow in real time because the PH20 quickly obtains high-density points for feature size, location and form for accurate and actionable data." This, he continues, gives a manager or machinist "the intel to act at critical points in part processing."
Having a hard-bearing CMM that doesn't require air and can be moved right out on the floor is key to gathering data at the point of use, according to Skulan.
'Every part imaginable'
An early adopter of the HB is Beau Easton, owner of Meyer Tool Inc. The Tier 1 supplier produces components for the aerospace and gas turbine engine industries. With approximately 800,000 sq. ft. of manufacturing space spread across 10 locations in the U.S., Canada and Poland, Meyer Tool builds its own equipment (except for mills), including multi-axis EDMs and CNC-controlled grinders to waterjets, lasers and airflow stands. Tooling and certain pieces of inspection equipment are also built in house.
"I can expand capacity with a new machine at an accelerated rate because I don't have to stand in line for equipment built by someone else," says Easton. "And I can do it more cost effectively. Downtime is no issue because we have every part imaginable."
Demand for tighter tolerances and critical dimensions is increasing alongside customer requests for more data points throughout a process. "Customers want more variable data," Easton notes, "and the HB with the PH20 probe head is the most efficient, affordable way to collect that data."
Meyer Tool possesses 42 CMMs, 23 of which are HBs. "Having these affordable systems in place for in-process inspection and final acceptance provides leaner flow and better control over part quality," he continues.
Complex surfaces
Meyer Tool fabricates hot section parts for turbines from superalloys at tolerances of plus or minus 0.005 in.
"We make every component around the flame and behind it from nozzles, blades, combustors and fuel nozzles to shroud supports and heat shields," says Easton. "Part sizes range from small high-pressure blades to turbine nozzle segments that weigh 300 lbs. Some items require 65 to 100 operations before they ship."
The HB keeps inspection of convoluted part profiles from becoming a bottleneck. Five-axis infinite positioning can adapt to difficult curves, prismatic or non-prismatic parts without the need for other equipment. Larger parts can be measured on the CMM because 5-axis simultaneous motion reduces the amount of space required around the part for head rotation.
"We drill approximately 1.7 million holes a day at capacity and measure the positions and shapes of holes, diameters, mating surfaces, airfoil positions, effective flow areas, notches and slots," says Easton. "A lot of these parts, like airfoils, are complex. With HB, we get repeatable results."
An undercarriage equipped with one steering and two stationary wheels allows Meyer Tool to move the HB anywhere on the shop floor. A 110/220-volt outlet eliminates the need for shop air.
"We can place inspection in or near a manufacturing cell instead of segregating it to a separate room," says Easton. "We can check parts as we go instead of batching them and sending them to a central location. I can keep the production line going and still inspect one unit at a time. This cuts down on travel time to a central inspection area as well."
Data analysis
With parts production down to a science, Meyer Tool is also connected. The company developed its own statistical process control (SPC) software (named Orion) that acquires, manages and analyzes variable and attribute measurements from a variety of sources like the HB.
"You can't realize the full picture of an IIoT smart factory without the ability to collect and analyze electronic data," says Easton. "Our CNC machines and inspection equipment are connected to each other and tied into an enterprise resource planning program that funnels data through Orion. This allows us to continually monitor the status of each machine. Is it running? Is it idling? Is it in need of maintenance? We are able to make real-time decisions based on analysis of that data."
The HB will converse with machines and with other software systems. A Renishaw open architecture controller drives the HB while Renishaw Modus software makes it possible for the CMM to talk to other machines and facilitate the flow of data to Orion.
Meyer Tool's site-wide ERP package integrated with its SPC software puts data at machinists' fingertips. "If you can measure it, you can fix it or improve it," Easton says. "Our parts are serialized. The HB helps us track every component. If a non-conformance happens, we can pinpoint its origin and the reason for it."
High yields
"Our first-time yield is consistently above 99 percent," he continues. "The only way we can achieve this is by knowing—at a machine level—what our process capability is, and we can only know that through the data. But you have to collect the information first and that's where the HBs really shine for us."
Meyer Tool also cross trains machinists to run the CMMs and inspect their own hardware through an operator acceptance program. "The service and training we have with AIMS has been the basis for a real partnership," Easton comments.
Ahead of the curve when it comes to collecting and managing its data, Meyer Tool is "still working on true automation with robots." The company uses 3D printing to make parts for its machines along with tooling and the fixtures needed to hold parts during machining.
"We use additive manufacturing to support our own production processes internally but in terms of speed and materials it's not there yet for production volumes."
Baby steps
Meyer Tool is working toward lights-out production for some products. These lines still need a machinist to shuttle parts from one cell to another.
"The HB is suited to working with robots," says Gearding at AIMS. "We designed it with pass-through automation in mind. The CMM is open from front to back to allow material handling technology to move parts in and out."
Thermal stability and mechanical bearings help protect the HB from a harsh shop floor environment. A Renishaw TONiC and FasTrack encoder scale system support a high degree of accuracy. Precision drive systems provide reliable inspections.
"The HBs perform well in our environment," says Easton. "It is heat and air-controlled but the HBs have to function in the same space with lathes, EDMs and waterjets. We have not experienced the need for additional maintenance. These shopfloor CMMs have been great for us."
Able to tackle any part angle, Skulan says, "the 5-axis CMM is equipped to support the direction of Industry 4.0, which points to cloud-based digital part models forming the basis for production runs."
The technology is there now, we are already supplying it, but the broader industry is still catching up, he adds.
In a shifting businesscape, the example that the partnership between AIMS, Renishaw and Meyer Tool sets, proves phenomenal things can be achieved through collaboration.
"It's made all three of our companies stronger," says Skulan. "With its depth of talent as an OEM, AIMS has expanded; Renishaw has doubled employment in the last five years; and Meyer Tool is seeing no slowdown in its growth.
"You get run out if you stay where you are," Easton observes.