AIMS Metrology Appoints Chris Brown National Sales Manager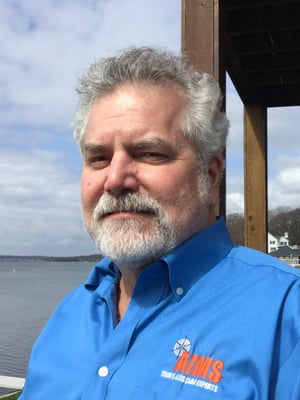 DAYTON, Ohio—(May 15, 2019) Five-axis coordinate measuring machine OEM AIMS Metrology announced the hiring of Chris Brown as national sales manager. Brown has more than three decades of experience in quality inspection equipment, service and support. Brown represented Sheffield Corp. gauges and measuring systems until 2004. Brown continued to represent and service the line under the name Sheffco until 2010. He has also distributed Renishaw 5-axis products since 1988.
"Adding someone with Chris's experience and knowledge about technology that complements our business objectives to put cost-efficient, 5-axis inspection and intelligence-gathering tools into the hands of manufacturers is a good fit," says Dave Delph, president and co-owner of AIMS Metrology. Delph is also a former employee of Sheffield. AIMS builds and assembles its Revolution Series CMMs in the U.S., and equips the machines with Renishaw 5-axis scanning and touch trigger probes.
"You need to inspect what you machine," says Brown, who will cultivate the CNC machine tool market space for AIMS. Brown will use his network to expand AIMS' reach in North America and Mexico and work to identify new distributor relationships.
AIMS was founded in 2009 to equip the industry with the tools to perform accurate, flexible three-dimensional inspection for in-process and post process parts. In 2015 the Dayton, Ohio-
based OEM launched its line of Revolution LM and HB series coordinate measuring machines designed and engineered to introduce and bring Renishaw 5-axis measurement technology to the shop floor and the laboratory. AIMS' Revolution line of CMMs are exclusively supported by Renishaw technology through probe heads, touch probes, scanning probes, incremental encoderscale systems, change racks, styli, controls, and Modus software. Faster measuring speeds, enhanced accuracy, higher throughput and lower cost of ownership make the Revolution series products especially suited for the quality control process demands of efficiency-driven manufacturers and the growing number of smart factories and automated operations. In addition to matching customer requirements with the right turnkey CMM system, AIMS provides installation, service/support and training. Machine retrofits and refurbished equipment are also available.
For more information visit www.aimsmetrology.com or contact Chris Brown at cbrown@aimsmetrology.com