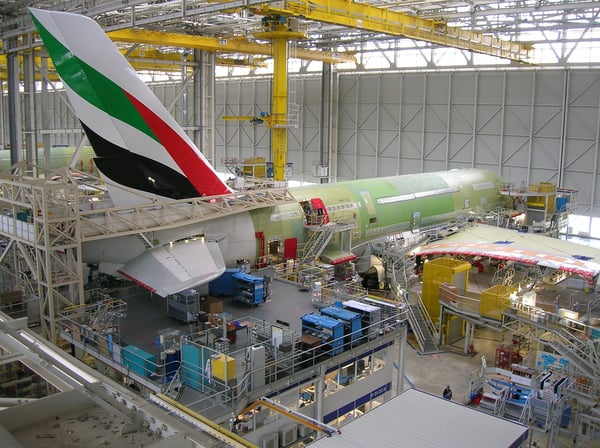 No one wants to get the call that a bad part found its way to a customer. Founding father Benjamin Franklin had the solution when he said "an ounce of prevention is worth a pound of cure." In this case a coordinate measuring machine (CMM) makes a strong "cure."
A CMM plays a crucial role in preventing the scenario of a bad part along with other issues that can impact accuracy and throughput, particularly in a smart factory setting. A CMM ensures a work piece meets specifications for production and provides critical real time data to a manufacturer's ERP system.
The Revolution LM, fitted with a Renishaw 5-axis REVO 2, is built with a granite work plate and aluminum mobile bridge for higher rigidity and lower inertia. The margin of error is further reduced through the Renishaw submicron optical scales. The REVO-2 is the only scanning system for CMMs that simultaneously controls two head axes while collecting work piece data with 2D and 3D tactile probes, a surface roughness measurement probe or non-contact vision probe.
Unlike DC servo motors or a belt and pulley design, the LM is powered by linear motors. This allows the CMM to maintain proper submicron levels of precision that markets like aerospace, medical and automotive need. Throughput rises because downtime is reduced. Also, the linear-driven LM can operate at an optimum output level for years because there is no maintenance. The linear motor has no moving parts. It works off permanent magnets that don't wear out. Electronic signals are sent to the motor, using the natural force of the magnet to generate a small magnetic field that interacts with the magnets. The result is precise positioning and reliability along with little to no maintenance.
CMMs offer other benefits too. The precision of the LM allows it to perform precise measurements of objects for design, assessment, testing profiling, and reverse engineering. It allows you to inspect areas that would normally be hard to measure with standard instruments. Here's a run down of some of the other benefits you get.
Batch Inspection and reporting
Batch measurements (SPC)
Capability Studies /SPC
Fault finding by measurement
First Article Inspection Reporting
First-off inspection report (FOIR)
Fixture inspection/calibration
Initial sample inspection report (ISIR)
Inspection to CAD
Inspection to Drawing
Measurement systems analysis (MSA)
Multi-cavity inspection reports
On-Site CMM Operation & Programming
Over flow services
Repeat Measurement
Reverse Engineering
Reverse engineering (actual component measurements in CAD model format)
Scanning (contact and no-contact)
Tool trial reports
If you would like to learn more about how linear motors might be a cure for you we would love to explain in more detail.