In the Northern Hemisphere spring will officially begin on March 19. For 10 to 20 percent of the population, winter, with its short days, murky skies and lack of sunlight, means the onset of seasonal affective disorder (SAD). The depressive condition is said to occur four times more often in women than in men. Whether or not you have SAD, the environment—outside or inside—can influence behavior, mood and motivation.
Manufacturers are particularly concerned with environment and how it affects both employees and equipment. This year, 25 percent of the workforce will be composed of older employees. Companies are looking to innovation to help reduce repetitive motion and heavy lifting. Adaptable, easy-to-use tools and systems along with automation are attractive to manufacturers that want to boost production, reduce cost and raising worker safety.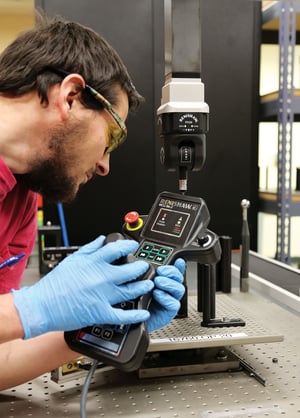 The typical job shop environment can be equally hard on equipment. Take coordinate measuring machines. Speed and accuracy are crucial when it comes to reliable, repeatable results. But temperature, humidity, trapped dust, oil and vibration can have a big impact on a CMM's ability to perform.
That's why we've designed and constructed our CMMS to withstand climate changes. Our Revolution Series LM has been integrated with a Renishaw 5-axis REVO 2 head and the new SFP2 probe. Because the SFP2 is interchangeable with other probe options, it gives manufacturers the flexibility to inspect a diverse range of features on one CMM. The SFP2 automates surface finish measurement for reduced part handling and higher throughput.
The LM with its REVO 2 head and SFP2 probe eliminates the need to handle the part multiple times, helps the operator recoup lost time, prevents the potential for error and increases throughput.
The SFP2 surface finish system is managed by the same I++ DME compliant interface as the REVO system, and full user functionality is provided by MODUS software. The LM is built with linear motors that work off of permanent magnets that don't wear out. Electronic signals are sent to the motor, using the natural force of the magnet to generate a small magnetic field that interacts with the magnets. The result is precise positioning and reliability along with little to no maintenance. The LM has a granite work plate and aluminum mobile bridge for higher rigidity and lower inertia.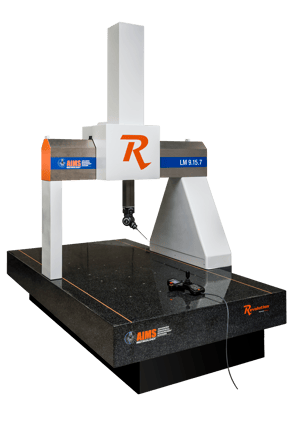 With parts becoming increasingly complex, automotive suppliers in particular are opting to use the 5-axis LM with REVO 2 and SFP2. Though tailored for use in the controlled environment of a laboratory, the LM can also operate on the shop floor with a protective enclosure designed and built for it.
Manufacturers that need a CMM that can stand up to a shop floor's harsh conditions yet provide a mobile inspection solution are choosing the Revolution HB with Renishaw's 5-axis PH20 probe head. It can cut inspection time from days to hours for many applications such as aerospace and automotive components. Constructed with a polymer-cast base and a roll-around stand with casters that can be locked in place, the HB is easy to move. The machine runs on standard 110 volt power, so the need for shop air is eliminated. Built-in vibration resistance, mechanical bearings and thermal stability give the HB the durability it needs to withstand the rigors of shop floor use. The HB's 5-axis PH20 probe head provides superior accuracy and repeatability and performs three times faster than conventional probe heads.
Regardless of your environment, we've got a CMM that can give you 5-axis performance without sacrificing accuracy or repeatability.
Contact us today.