IMTS Wrap-up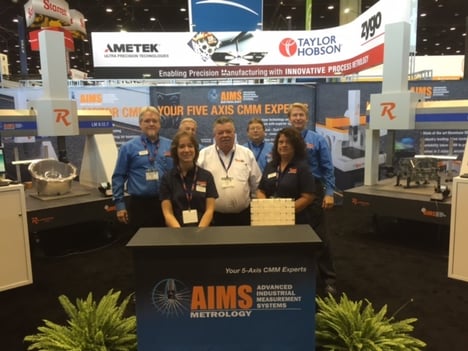 The biennial International Manufacturing Technology Show, also known as IMTS, concluded September 17, 2016 (and our feet have finally stopped hurting). The show just released final attendance numbers for this 31st edition, which are:
115,612 registrants (3rd highest)
1,370,256 net sq. ft. of exhibit space (3rd largest)
2,407 exhibiting companies (the most ever)
76 million pounds (the weight added to McCormick Place after IMTS exhibitors moved in)
It was AIMS Metrology's first time exhibiting at IMTS, and we were pleased with the excellent booth traffic. Demonstrations on the Revolution Series LM, which employs linear motors with a Renishaw 5-axis scanning system, and the HB shop floor machine, the industry's only mobile 5-axis CMM, attracted a lot of visitors. AIMS Metrology also had a presence at two other booths: Machine tool builder Mazak displayed the HB while Renishaw showcased the LM.
There was a lot of positive feedback on the 5-axis technology, the functionality of the LM and HB and the fact they come equipped with a Renishaw UCC controller. We use the Renishaw controller because it supports an open architecture design. Conventional controllers are built with a proprietary source code, forcing manufacturers to use only that OEM to service the machine.
Visitors were also intrigued by previously-unavailable 5-axis mobile machine for the shop floor. People were surprised by this new technology, allowing CMMs built right here in the US to be on both the shop floor and in the lab. We were proud to discuss the fact we design, manufacture and assemble all our products at our Dayton, Ohio facility.
The machine demonstrations spurred conversations that covered other topics as well. Individuals opened up about the lack of support from other OEMs. We found that 5-axis machine tool development is prompting customers to consider 5-axis CMM technology to complement their manufacturing processes. Mazak and Renishaw expressed satisfaction with the turnout and the interest shown in these products.
Overall, we were very pleased with the results of the show. See you in two years!