Across the board more and more OEMs are recognizing the fact that medium to large-sized contract job shops have embraced automated machines. There are several reasons for that. Companies continue to grapple with a shrinking skilled labor pool as experienced workers retire. Manufacturers also want to eliminate secondary operations in lieu of more finished parts and they want to reduce part handling.
This year we launched the Summit 10.10.10 to address these trends and give manufacturers other advantages like large part, high volume inspection. The new Summit 10.10.10 CMM puts 5-axis scanning and the multi-sensor surface finish measurement capacity of REVO-2 into the hands of the operator. Demand for multi sensor capability has also been gaining traction in the market. It allows the operator to select the best sensor for specific part features and not just for the part as a whole. With multi-sensor capability, 5-axis motion and infinite positioning, manufacturers have the flexibility to adapt to inspection demands for a diverse range of parts and manufacturing processes.
With Summit, we have integrated those capabilities with the option for automation.
Like a number of suppliers, Honda Transmission Manufacturing of America Inc., wanted to add value to its operations and update its quality inspection methods. The company had been using a hard fixture with bar gauges. The fixture was costly, part inspections took longer and operators weren't able to collect live data. Instead, inspections were based on a go/no go response.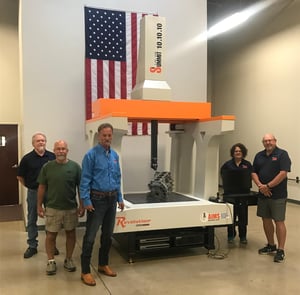 The transmission manufacturer invested in two Summit CMMs that are being equipped to work with a robot load/unload system or a pass through process with a conveyor system for automated inspection. The Summit gives Honda 1 meter cubed capacity and the industry's largest workpiece weight of 2,200 kg to support sizable parts it is bringing on line and still easily accommodate a robot head and gripper. One Summit will be used to perform one-to-one knock hole inspection on Honda's new product line while the second machine measures less critical hole features [one out of every 30 parts] at the end of the line. The machines will run on Renishaw MODUS software.
The measuring range of the Summit is three axes: X is 1 meter, Y is 1 meter and Z is 1 meter. This gives the Summit 1 meter cubed capacity for high-volume, large parts measurement. Its' robust frame and stiffer Z axis supports REVO-2 which can process 4,000 data points per second at speeds of up to 500 mm/sec.

Dual linear motors work off permanent magnets that don't wear out. Conventional belt and pulley mechanisms have a tendency to break, resulting in costly service calls and extensive downtime. The design minimizes wear and tear for zero maintenance and enhanced uptime.
Unlike other granite shop floor machines, the Summit's polymer-cast base has built-in vibration resistance and thermal stability for longer life and greater accuracy. The CMM uses standard 110/220-volt outlets, eliminating the need for shop air.
The Summit is suited for high volume, large parts inspection for automotive, aerospace and medical manufacturers but its multi-sensor 5-axis capability means it can be used to measure and inspect a wide range of parts produced by the metal forming and fabricating industries as well. The CMM can also be used for the composites and advanced materials markets and applications such as coating thicknesses and surface roughness for adhesion.
Do you need to automate inspection for your production line? Do you need the capability to inspect larger parts or the option for multiple sensors to handle a diverse part line? Call us today. We'd love to talk with you about the parts you want to make and show you what Summit can do.