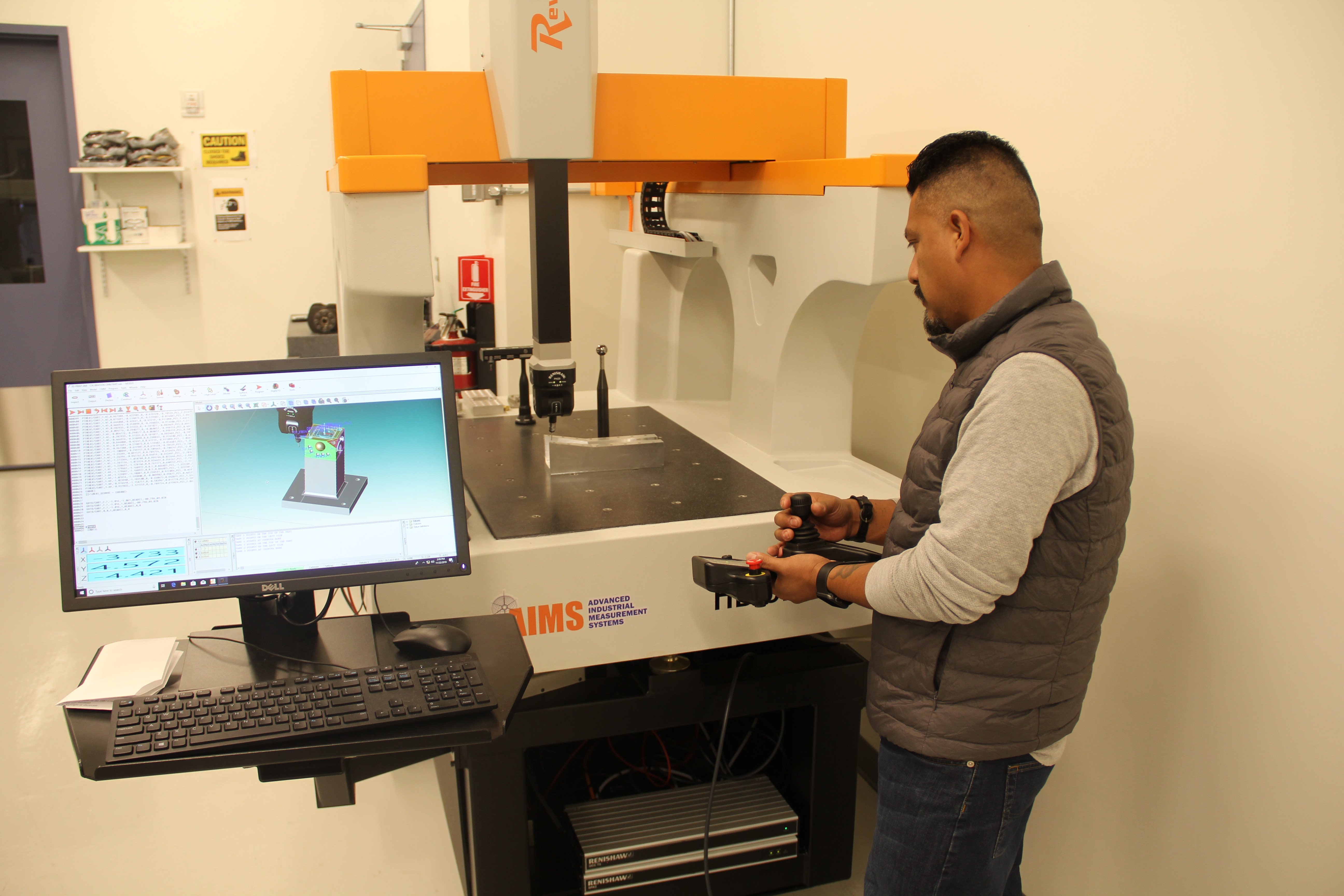 The Internet of Things (IoT) represents the billions of devices now connected to the internet collecting, analyzing and sharing data. Tech analyst company IDC predicts that in total there will be 41.6 billion connected IoT devices by 2025. Cost efficient computer chips and wireless networks make it possible to integrate almost anything into the IoT. The recent introduction of 5G (the fifth generation wireless technology for digital cellular networks), will provide a wireless wide area network (WAN) that can provide 24/7 connectivity for people, places and things. With technology seemingly moving faster than the speed of light how do manufacturers and the equipment they use keep up?
The 5-axis coordinate measuring machine is not only keeping up, it's adapting to the changing needs of critical markets such as automotive and aerospace. By partnering with technical universities in the U.S. and Mexico, we've been given an inside look at how some companies are using CMM technology. In 2019 we delivered Revolution Series mobile, 5-axis HB CMM with a Renishaw PH20 probe head to Vaughn College of Aeronautics and Technology. We also shipped an HB with a PH20 probe head to the Technological University of Chihuahua (UTCH). This year we will ship 16 additional HBs to campus locations across Mexico.
Vaughn College, founded in 1932 in Queens, New York, is certified by the Accreditation Board for Engineering and Technology Inc. (ABET). It teams up with local manufacturers to groom a new labor pool that combines education in engineering, technology, management or aviation with practical skill sets honed on high-tech equipment like the HB.
The school's aerospace industry advisors tell them that one of the biggest challenges they have is finding employees who can read blueprints. A new course is being developed that will teach students how to read a print and understand what features like flatness and profile mean and the types of tolerances that can appear in a dimensional drawing."
The course, slated to launch this year, will take place in a job shop environment outfitted with CNC machine tools, go/no-go gauges and the HB. Students will read blueprints, cut real parts and learn to measure them with both the gauges and the CMM.
According to Vaughn's engineering and technology department chair, the aerospace industry is looking for students who have both head knowledge and hands-on experience. A student who understands engineering, has CNC machine tool experience or can inspect parts with a CMM is highly marketable. Vaughn has found that if students know how to read a print, they can cut a part, write a program and inspect. Students are placed almost before they can graduate. According to Vaughn, students that understand how to program and operate a CMM are in high demand.
Growing requirements for a 100 percent acceptance rate on parts and the ability to measure complex features in a smart factory environment is creating even greater interest in CMM equipment like the HB and in programmers and operators who know how to use them.
The HB is a critical component in digital factory spaces because it can monitor process flow in real time while the PH20 quickly obtains high density points for feature size, location and form for accurate and actionable data. This gives a manager or machinist the intel to act at any point during parts production. The HB's Modus software has become a launching pad for attracting students because its' intuitive nature makes it easy to program a part off an imported model or create a program off a part.
The growth of additive manufacturing is also creating a niche for the HB. Customers are printing parts and using the CMM to inspect them. Why? Additive manufacturing puts a supplier ahead of the game because a programmer can print a part and check it right away instead of waiting for a program to be debugged before starting a production run. We're also finding that the CMM is being used to inspect parts and qualify modifications made to tooling.
There's no doubt technology is changing the face of how manufacturers do business but the 5-axis CMM has the tools to keep up.