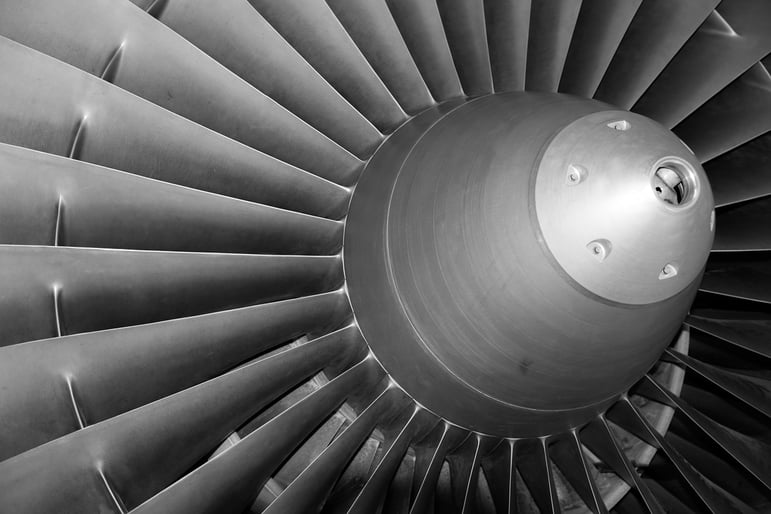 In its' 2019 Global Aerospace and Defense Industry Outlook Deloitte reported that the aircraft order backlog for the commercial aerospace sector remains at an all-time high due to "demand for next-generation, fuel-efficient aircraft in response to surging oil prices."
High demand means that manufacturers must ramp up production rates yet Deloitte states that companies will likely "experience supply chain interruptions as some fabricators struggle to keep up.
Improving 5-axis machining is one way equipment makers are trying to help. Technology updates include easier-to-use controls and programming functionality such as:
Touchscreen controls allowing operators to scroll/swipe through long lists, programs, tables
Easier programming for complex cuts with clearly arranged support graphics
Dynamic collision monitoring that senses and stops impending collisions
The ability to easily and efficiently feed data to enterprise systems and machine monitoring programs can increase competitiveness and profitability. Developing new processes and tools for complex geometries and tough-to-machine materials helps to reduce machine and tooling wear. Adaptive feed controls can also reduce cycle time.
Five-axis coordinate measuring machines (CMMs) also promise to take on a greater role in parts production both during processing and following machining. Let's take a look.
Aerospace parts production and inspection is being offloaded to a diverse line-up of suppliers including smaller companies. Faster deliveries and tighter accuracies for the thousands of mechanical parts that have to be inspected before assembly means CMMs have to be faster and more accurate.
But that's not the only challenge. Long, heavy parts like airframe structures and spars are hard to measure because of their form. Higher volume, large components with close tolerances typically require a large bridge or gantry CMM like the laboratory-grade Revolution Series LM equipped with a Renishaw REVO 2 scanning probe. Portable laser trackers have attracted a following due to their suitability for low volume, long or large parts. The Revolution HB fitted with Renishaw's PH20 5-axis technology offers another robust option for portability as the only mobile 5-axis CMM on the market.
When looking at inspection methods, non-contact, touch trigger and scanning analog probes each hold a special place in the aerospace fabricator's tool box. Accuracy and part shape dictate which tool a technician will choose.
Prismatic part features such as circles, holes, slots or plain line points are best suited to a simple stylus configuration capable of maintaining accuracy and shortening inspection time. Offline programming optimizes uptime. Operator knowledge is another important ingredient and should be supported with in-house training.
Emerging trends for more speed and higher accuracy have prompted an uptick in non-contact metrology. When it comes to engine parts like turbine blades with very tight features and high accuracy requirements, more manufacturers are opting for non-contact inspection over gauges and touch probes. Better optical components, better cameras and software improvements have boosted expansion of non-contact inspection.
The Revolution LM is a multi-sensor solution that can be equipped for touch or non-contact inspection. Unlike other vision systems on the market, the LM features the industry's most advanced scanning probe - Renishaw's REVO 2 with the RVP vision probe. The RVP provides non-contact vision measurements on a 5-axis platform with infinite positioning. The RVP supports non-contact inspection of parts with small features and delicate or flexible components, but can also be used for a wide range of applications including scanning measurements and surface analysis finish. Its 5-axis motion from part features to real time image processing significantly raises data collection rates.
Non-contact inspection is either laser or optical driven. 3D laser metrology can scan a line over a part or the part can be moved under the line. Optical systems draw on one of a number of images and triangulation such as photogrammetric systems or white or blue light scanning.
Non-contact systems are especially suited to wing spans, plastic parts, leading and trailing edges and other parts that need a significant amount of data to define them.
Some turbine blade manufacturers have more than 100 CMMs in a single spot to keep pace with demands for 100 percent in-process inspection. Automating measurement has the potential to provide high data rates, up to millions of points per second. The right software package can help automate data collection and inspection routines. Packages can be tailored to specific applications like airfoils. A section of 3D scanned data can provide a fabricator with airfoil callouts that include leading and trailing edge diameters, chord length, twists and other characteristics.
Need to step up your game? Consider the fact that 100 percent quality inspection, the ability to process large amounts of data quickly and ensure that 5-axis machining and tooling is properly supported offers ways you can become an even more important cog in the supply chain.
Editors note: This blog was originally published in June 2017 and has been updated for accuracy and comprehensiveness.