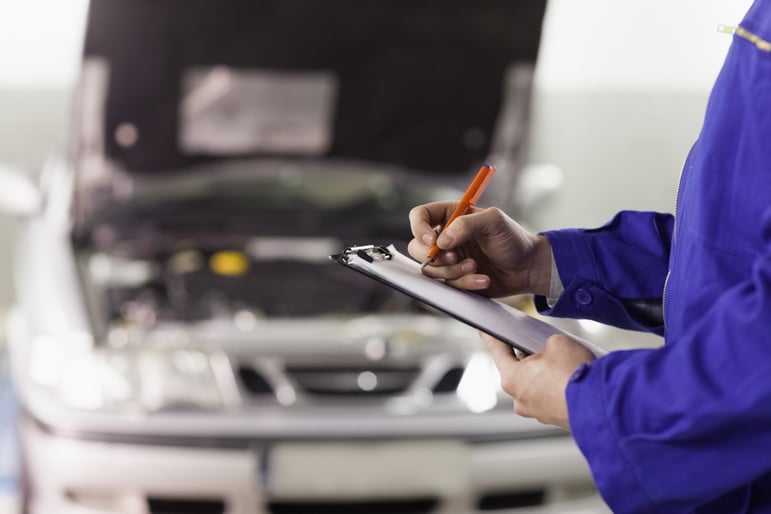 The U.S. Bureau of Labor Statistics reported that Americans spent 39,243,750 hours in 2014 on yard work alone. Do you ever look at your own house or lawn and feel like your to-do list is endless? In the automotive and transportation industries, metrology needs also appear endless. Every part you can think of needs to be inspected at one point or another somewhere along the supply chain.
Auto makers are feeling the pressure of tightening margins and shorter turnaround times. Innovation continues to rapidly change the way parts are made. Also, automotive quality standards recently received a significant update, giving sector members one more thing to keep pace with. The challenge? Balancing innovation with safety.
How Metrology Helps
But the automotive sector isn't the only hotbed for innovation. The right metrology equipment choices can cover myriad measurement requirements and contribute to greater accuracy and higher throughput, helping manufacturers reclaim lost production time.
Checking part geometry? Have precision machined components for drivetrains or parts for suspensions to measure? A laboratory-grade coordinate measuring machine like the Revolution Series LM offers precise positioning to boost accuracy and reliability. Throughput is higher thanks to the machine's live 5-axis (Renishaw) scanning technology coupled with the CMM's linear motors.
Here's why it's different. Calibration on traditional CMM systems can take a considerable bite out of a manufacturer's processing time. Using a CMM to measure a single component, or a small number of parts calibration for 10 head orientations, generally takes 30 minutes. Calibration for the REVO-2 takes just 20 minutes. Measurement of multiple parts with differing features can require up to 40 head orientations, translating to a calibration time of at least two hours. REVO-2 can be calibrated in 20 minutes.
The REVO-2 also gives manufacturers the ability to automate surface finish inspection which, up until now, has been conducted manually. In addition to recouping production time, a supplier can free employees to perform other value-added tasks. And keep you eyes out for the REVO video probe - it's expected to be introduced soon to auto makers that require non-contact inspection for features such as tiny holes and thin edges.
Measurement of high volume part runs where 100 percent inspection and cycle times are critical can call for a tandem teaming of the LM and Renishaw's Equator gauge. Able to bridge the gap between the lab and production parts that must be measured, the Equator has the flexibility to support continuous part fabrication or production of diverse parts assigned to regular batches. It can switch programs and fixtures in seconds for medium to high volume applications.
When it comes to measuring parts for engines or internal transmission applications, a CMM that can make 5-axis measurement portable can be a game changer. The Revolution HB CMM equipped with a Renishaw PH20 is a good choice. The harsh environment of a shop floor can make inspection and measurement difficult. The HB's composite base makes it slow to react to thermal changes while dampening vibrations. The mobile, 5-axis CMM is also easily adaptable to part design changes as well as process changes compared to dedicated gauges that must be re-designed, replaced or modified. The low mass of these machines allows them to operate at high speeds without compromising repeatability or accuracy. The Equator is also a good fit for smaller, high volume parts like brake calipers, rocker arms, water pumps, pistons and brackets.
A Word on ISO 9001
Along with having the right metrology equipment, the ISO 9001 standard for quality management and industry-specific ISO/TS 16949 help support consistency in business operations and ensure products meet stringent specifications.
These standards received significant updates in 2016. The ISO 9001 standard was upgraded from its 2008 version to a 2015 version and ISO/TS 16949 transitioned into IATF 16949. The most significant change is that IATF 16949 has been disconnected in title and structure from ISO 9001. The International Automotive Task Force (IATF) now controls IATF 16949 and will provide future updates. IATF 16949 still requires compliance to ISO 9001:2015 but also stands as a separate document. Separating these standards provides the industry "greater flexibility to respond to regulatory and technical advances unique to automotive industry," according to Ismael Belmarez, accreditation manager for DNV GL Business Assurance North America. Certification audits for organizations previously registered to ISO/TS 16949 will be conducted to the new standard beginning October 1, 2017.
In Conclusion
To keep pace with quality standards and measurement requirements it's important to consider working with an OEM that can provide 5-axis lab grade and mobile CMMs as well as a range of custom gauge choices. It's also important to make sure your metrology OEM has ISO/IEC 17025:2005 accreditation for calibration.