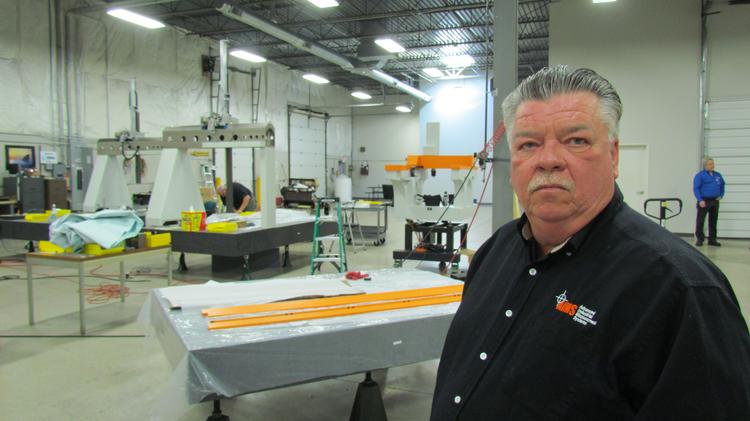 Written by TRISTAN NAVERA and originally published in the Dayton Business Journal. Visit the original article at http://www.bizjournals.com/dayton/news/2016/10/24/miamisburg-company-targets-international-growth.html.
October 24, 2016. In the six years since it opened up shop, Advanced Industrial Measurement Systems has seen a steady series of expansions propel it ever larger.
The next target is South America.
The Miamisburg-based company designs and builds coordinate measurement machines — also known as CMMs — used for measurement and inspection by the manufacturing industry. When it was first founded, it sold products from international companies but began to sell its own line of products from its Kohnle Drive home.
"The demand is for precision but also for throughput," said Dave Delph, president and co-owner. "If they can check three parts in the time it used to take to sell one, that's a big cost savings. That's where we came in with a 5-axis CMM tool we offer."
A series of expansions followed; the company began a $750,000 expansion of its Miamisburg site that wrapped up a few months ago. Then in August it acquired Englewood-based tool shop CMI Technologies, and has since enlarged the staff of that shop to nine employees and invested into modernizing it.
With business growing, the company is on track to hit its $10 million revenue mark goal.
Almost all of AIMS' customers are not local, though it has recently gained Honda as a customer and has also sold to UTC Aerospace Systems and Gem City Engineering. The company is tackling its next big customer base are growing manufacturers with operations internationally, especially South America.
The technology is expensive — one CMM machine is $75,000 to $250,000, Delph said. So the demand in the market is for machines that can measure components faster, so they have to buy fewer machines. After-market sales and service on the machines has been where AIMS has hit its stride — the machines must be able to measure to the micron.
"We have a lot of talent in the Dayton region, a lot of smart people here, and that's been a big help for us," said co-owner Mark Gearding.
Traditionally popular in the automotive manufacturing segment, AIMS' technology is also growing in the aerospace and biomedical sectors. Big clients include Metaldyne Corp., GKN Aerospace, Meyer Tool Inc. and others. The machines can take about $1 million to develop and the software can be just as expensive to build, Delph said.
They want to gather clients who buy multiple machines, and often those have operations in multiple countries. So the company looks to enhance its distributor network to grow the sales of the machines, including in Brazil where they are beginning to set up a network and Mexico where they are already working, Delph said.
As a result, there are only a few operations that make CMMs in the United States, but they face stiff competition from well-financed international companies like German-based Zeiss and Switzerland-based Hexagon Metrology, Gearding said. The industry carries brand loyalty, but AIMS competes on better pricing, especially for after-market.
"To be competitive we've got to sell to the GEs, the Pratts, the aerospace industry, which is a hotbed right now," Delph said.
But diversifying the offerings of both AIMS and its machine shop will help them continue to grow, Delph said. The company had already gone from "a laptop and a printer" six years ago to an operation with 35 employees and about $2 million in payroll between its locations.
"We're very proud of what we have done here, but we're not through," Delph said. "We will grow both sides of the business — if we're a $10 million company, we want to be a $15 million company. We always want to to grow."