AIMS ADDS SFP2 TO 5-AXIS CMM TO REDUCE PART HANDLING AND SPEED UP SURFACE FINISH MEASUREMENT CAPABILITY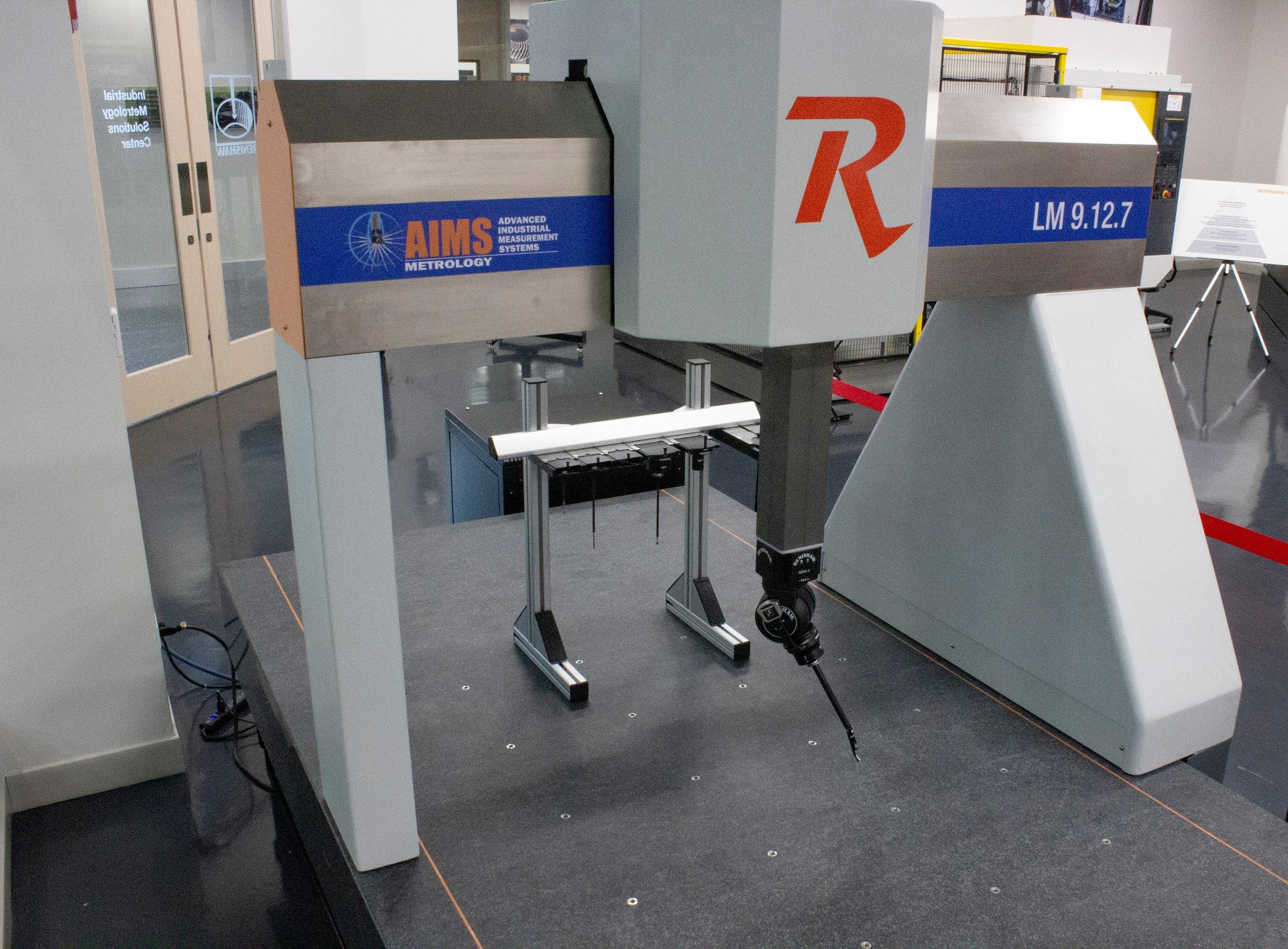 DAYTON, Ohio—(April 25, 2019) Until now fabricators conducting surface finish measurements have had to use hand-held sensors or move a part to a dedicated measuring machine. To help companies reclaim lost production time, AIMS Metrology has equipped its Revolution Series LM coordinate measuring machine (CMM) with a Renishaw 5-axis REVO 2 head and the new SFP2 probe. Because the SFP2 is interchangeable with other probe options, it gives manufacturers the flexibility to inspect a diverse range of features on one CMM. The SFP2 automates surface finish measurement for reduced part handling and higher throughput.
"When an operator has to size a part on a CMM, then take it to a dedicated surface measurement unit, he or she is handling the part multiple times, delaying the measurement cycle and introducing the potential for error," says Mark Gearding, co-owner and vice-president for AIMS Metrology. "We've seen an uptick in sales for the LM with 5-axis inspection and the new capabilities of SFP2."
The SFP2 surface finish system is managed by the same I++ DME compliant interface as the REVO system, and full user functionality is provided by Renishaw's MODUS metrology software. The lab-grade LM is built with linear motors that work off of permanent magnets that don't wear out. Electronic signals are sent to the motor, using the natural force of the magnet to generate a small magnetic field that interacts with the magnets. The result is precise positioning and reliability along with little to no maintenance. The LM has a granite work plate and aluminum mobile bridge for higher rigidity and lower inertia.
"Automotive suppliers in particular are opting to use a 5-axis LM integrated with REVO 2 and the SFP2 probe," Gearding notes. "Parts for today's vehicles are becoming increasingly complex, a trend that is making measurement cycles longer. The LM with REVO 2 and the SFP2 is able to reduce cycle time significantly and increase throughput. We engineered the LM to be used in the controlled environment of a laboratory, but we're finding automotive customers who want to bring the LM onto the shop floor. We can do that by designing and constructing a protective enclosure around it. As a CMM OEM we don't just build equipment, we partner with customers to meet their needs."
AIMS was founded in 2009 to equip the industry with the tools to perform accurate, flexible three-dimensional inspection for in-process and post process parts. In 2015 the Dayton, Ohio-based OEM launched its line of Revolution LM and HB series coordinate measuring machines designed and engineered to introduce and bring Renishaw 5-axis measurement technology to the shop floor and the laboratory. AIMS' Revolution line of CMMs are exclusively supported by Renishaw technology through probe heads, touch probes, scanning probes, incremental encoder scale systems, change racks, styli, controls, and Modus software. Faster measuring speeds, enhanced accuracy, higher throughput and lower cost of ownership make the Revolution series products especially suited for the quality control process demands of efficiency-driven manufacturers and the growing number of smart factories and automated operations. In addition to matching customer requirements with the right turnkey CMM system, AIMS provides installation, service/support and training. Machine retrofits and refurbished equipment are also available.
For more information visit www.aimsmetrology.com