Tracking the world economic forum? Monitoring manufacturing trends here in the U.S.? If you produce a product, you're likely feeling the impact of Industry 4.0. Underpinned by automation, innovations like 3-D printing, smart technology and real-time data, the new industrial revolution is here along with the tools to help companies increase productivity and reduce costs across their supply chain.
A recent study conducted by PwC and Strategy& revealed that 90 percent of companies acknowledge that the capability to analyze data will be crucial to their business model in the next five years. Real time data is being tasked to help minimize quality losses. The ability to provide comprehensive data and transparency as well as consistent quality monitoring along the supply chain is also a growing requirement. Access to a 5-axis mobile coordinate measuring machine on the shop floor is one way manufacturers can cut inspection time, improve data collection and access the real time statistics they need to meet tolerances and improve repeatability.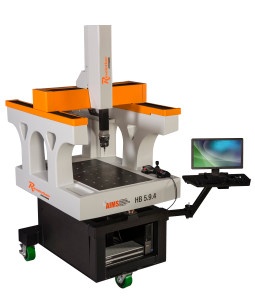 Part inspections using conventional methods can take two to three days; time manufacturers no longer have. With a mobile CMM, instead of removing parts from production and transferring them to a quality control lab for measurement and verification, a manufacturer can measure and verify on the spot. Five-axis mobile CMM technology can improve throughput and reduce inspection time by as much as 50 percent.
Parts continue to become more complex. Customer lead times are shrinking. Quality control processes have to keep up by becoming faster and more accurate. Put your quality control lab on wheels with a five-axis mobile CMM and get busy measuring.
Have questions? Contact us anytime.