Don't have time to read this article? Watch it instead!
Global accounting network, BDO, recently reported the results of its 2021 Industry 4.0 Survey. Over the next 12 months, projections suggest manufacturers will shift from managing COVID-19 disruptions to a business model of innovation and growth. Over 100 executives at manufacturing companies across the U.S. told BDO that their top Industry 4.0 priority this year is "boosting operational efficiencies in their supply chains, followed by improving customer experience." Other priorities included breaking down information silos to increase connectivity on the shop floor.
Results of Going Digital
BDO's survey results also revealed that early adopters of Industry 4.0 have begun to out-perform manufacturers that are less digitally connected. Legacy manufacturers are feeling the pressure to reassess their outlook about Industry 4.0 to secure the right path to future growth. Digitizing the shop floor allows manufacturers to improve responsiveness to shifting customer demands, and adapt quickly to supply chain disruptions by identifying and acting on less conventional opportunities. Staying ahead of the competition will mean combining agility, quality, speed and managing customer service costs.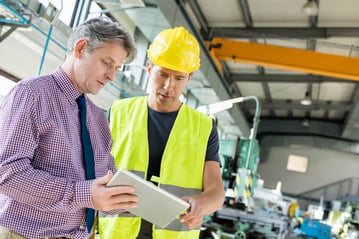 Survey statistics showed that only 13 percent of manufacturers that went digital early on are now struggling to reclaim market shares from competitors compared to 28 percent of legacy manufacturers who acknowledged they are unprofitable or losing business.
Companies must balance recovery from pandemic disruptions with the need to digitize their communication framework for connecting data flows. This is especially true when it comes to parts inspection and measurement. Job shops need a coordinate measuring machine that can provide the operator or machinist with real-time data as well as communicate with a fabricator's enterprise resource planning software (ERP) or manufacturing execution system (MES) as well as other machines. But a CMM can be a manufacturer's biggest bottleneck if it is a closed architecture machine.
Legacy programs with closed architecture lock fabricators into one OEM. It's the primary reason companies are afraid to make a switch when it comes to replacing outdated equipment. AIMS' 5-axis CMMs are equipped with an open architecture Renishaw controller and MODUS software. Multisensor CMMs that can deliver ultra-high accuracy without compromising cycle times will be essential for meeting the quality demands of the EV market. Lack of skilled labor will also continue to challenge manufacturers, so having CMM technology that can be automated to match lights out production lines or accommodate robots will become the norm. A CMM that can operate on the production floor instead of in the lab is also a plus.
AIMS' CMM Technology is the Solution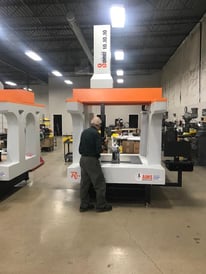 AIMS' Summit 10.10.10 is equipped with a 5-axis REVO-2 dynamic scanning probe and 1 meter cubed capacity. It was specifically designed for the metalworking industry to handle high volume, large parts inspection on the job shop floor. Large inspection capacity is enhanced with REVO-2's latest sensors such as RVP vision and SFP2 surface measurement for touch trigger and non-contact vision inspection.
The Summit can be automated with a robot load/unload system or different types of pass through processes that use conveyors. It can also be equipped with automatic tool adjustment to compensate for tool wear over time.
AIMS' Revolution® Series 5-axis lab-grade LM also offers companies the versatility of multisensor inspection capabilities with REVO-2. The latest CAD technology coupled with flexible and precise instruments that can carry out measurements in both point-to-point mode and continuous measurement with contact sensors.
Both the Summit and the LM have been designed with Direct Drive Linear (DDL) motors. In this system, the rotary motor is laid out flat, allowing the load to be connected directly to the motor. Unlike conventional motors, the DDL doesn't use ball screws, belts, a rack and pinion drive or any other type of mechanical components. Because there are no traditional mechanical components, maintenance is drastically reduced. The DDL motor configuration supports more green light time and precision positioning and reliability.
AIMS' mobile Revolution® Series HB can be placed on or near a production line for dimensional verification. The CMM saves substantial time and expense because an operator no longer has to manually pull parts for inspection. The machine is easily moved from location to location, where it can monitor process flow in real-time. Renishaw's 5-axis PH20 quickly obtains high-density points for feature size, location, and form. This gives a manager or machinist accurate and actionable data to act on at any point during parts production.
In addition to MODUS, AIMS has the flexibility to equip its CMMs with different software options such as CMM Manager and Verisurf. Check out our next blog where we talk about our software packages and what they offer.
Need to consider a new CMM that will help position you for connectivity on your shop floor? Contact us today.