What Manufacturers Need Most: IMTS Q & A
With the International Manufacturing Technology Show, aka IMTS, less than three months away, I interviewed Dave Delph, president and co-founder of AIMS Metrology. He talks about what manufacturers need most and how coordinate measuring machine (CMM) technology stacks up to the challenges.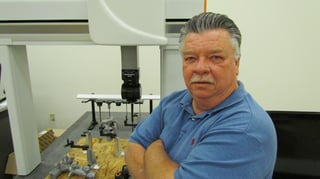 Q. IMTS visitors will be looking for new ideas to solve their manufacturing problems, cut costs and increase output. How can coordinate measuring machines help?
A. Part dimensions, tolerances and the materials components are made from are becoming increasingly complex. Tolerances affect the successful performance of an end product but tighter tolerances can add cost and hinder throughput. The ability to accurately measure tolerances helps companies strike a balance that maintains strict quality requirements while helping to control operational costs and avoid implementation of unnecessary steps in their value stream. Three axis coordinate measuring machines have been used for the last 30 years. But most manufacturers today have adopted 5 axis machine tools to increase throughput. It doesn't do any good to have 5 axis machine tools if you have a 3 axis CMM. That combination creates a bottleneck. We know that manufacturers need CMM technology that can keep pace with today's machine tools and raise production levels. Anyone can inspect a part but we truly are the only company that has developed and can provide 5 axis CMM technology.
Q. Does 5-axis technology really make that much difference when compared with 3-axis CMMs?
A. Let's look at the numbers. Typically manufacturers have to buy three 3-axis CMMs to get the throughput we can accomplish with just one 5-axis CMM. With our PH20 5-axis technology, a company can go from three conventional CMMs to just one. In addition to increasing production, they also save operational costs and the cost of ownership associated with one machine versus three machines. Just the calibrations alone for three machines when compared to one machine will save a company approximately $10,000 a year. Parts are also readily available for our 5-axis CMMs.
Just on calibrations for three machines versus one, you will save $10,000 a year. Manufacturers also don't have to employ a service engineer because parts are readily available for our 5-axis machines. Ninety-five percent of the machines we sell are 5-axis. To support manufacturing requirements on the shop floor, our HB CMM with PH20 is the top choice. Our LM CMM with REVO 4 PH20 is used in laboratory environments.
Q. What do you feel manufacturers look for most from a CMM OEM?

A. Companies are looking for someone that can respond quickly with solutions that work. So many OEMS are about sales first. We believe that if we provide real world solutions to our customers, whether it's simply advice or the design/build of a custom 5-axis CMM, when it comes time to make a purchase decision, they will think of us. Customers are continually tightening tolerances on components. That means you have to have a CMM system that can keep up. We believe we offer the best customer service and support in the industry. Here's why. We use Renishaw open architecture software which means we are putting the choice of service provider into the hands of our customers. If we don't give them good service, they can go somewhere else. That keeps us focused.

Q. Why do you feel service and support is so important today?

The bottom line is that companies simply don't have the resources available to service and support equipment. They are relying on OEMs to help them keep their machines in top performance condition. We have the engineering know-how to keep machines in spec but we also offer software support through our application engineers. We don't enforce any software maintenance agreements and we don't suspend support because a customer's software isn't up-to-date. Our first question when a customer calls is not "is your software up-to-date?" It's "how can we help you?'" Help might come in the form of bringing a customer's part into the shop and running it on our machine to make sure accuracy and repeatability are where they need to be. We can design and build a fixture for a part or we can work with the customer to help them design and build it. We can also write a new program for that part and then work with the customer on appropriate inspection techniques either at our facility, on-site or through phone support.

Q. Why do you feel IMTS is an important venue for you?

A. Five-axis metrology inspection is relatively new to the industry. We want to educate manufacturers about its benefits and how it can be a game changer for them. For example, we recently took a machine made by a competitor that had a fixed head configuration. The machine's cycle time to inspect one part was 24 hours. We retrofitted that machine with REVO and provided the software program. They now inspect that same part in just four and a half hours. We're also continually looking at ways to take our technology farther. Take our LM Series CMM. We're using linear motors to drive the equipment. Machine tool companies use this type of motor quite a bit but no other CMM manufacturer uses linear motors. Our question was "why not?'" No moving parts and minimal maintenance.

Q. Where will your machines be during IMTS?
LM Series 5-axis CMM and HB Series 5-axis CMM: AIMS booth #E-5836.
LM Series 5-axis CMM: Renishaw booth #E-5509.
AIMS' HB Series 5-axis mobile shop floor machine: Mazak booth #S-8300.