I'd just graduated from high school when I saw Star Wars in 1977. I basically witnessed the moment that cinematographer George Lucas changed the way movies are made by pioneering a new direction for computer animation and digital effects. Now, 40 years later, digital IQ technologies are changing the way manufacturers operate. Consider for example the "smart factory." Its goal is to help companies gain significant real-time quality, time, resource and cost advantages from their production systems. Coordinate measuring machines play a key role as parts become more complex, with tighter tolerances and shorter customer lead times. But don't just take our word for it - let's hear from Pratt & Whitney's Wayne Nye.
Advances in CMM technology are making it possible for companies to improve throughput, reduce inspection time and eliminate potential breaks in value streams. Implementation and interpretation can be problematic though. It's one of the things Wayne Nye discussed at AIMS Metrology's Advancing Quality in Manufacturing event in 2016. Nye is Team Leader for the CSMC CMM Programming Group at Pratt & Whitney Aircraft.
"There are a lot of new technologies and thought processes emerging right now," he said. "I have been fortunate to work with the DMSC to help develop the QIF Standard. This standard creates an XML schema-based file structure, to flow data, either consume or produce. This can create interoperability between non-standard systems such as CAD, CMM and data structures like First Article inspection. These types of large-scale philosophical changes can seem daunting, but once embraced, can lead to cost savings and a more real-time understanding of the manufacturing process."
Among equipment developments is the Revolution Series HB Shop Floor CMM. Renishaw 5-axis technology makes the Revolution HB mobile and reduces inspection time from days to minutes.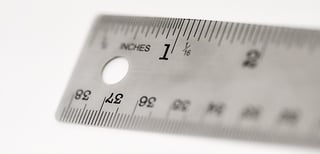 "Accessing a higher level of data allows manufacturers to make better decisions," Nye said. "Technology that adds value due to throughput gains and can gather additional feedback from manufacturing processes allows a manager to anticipate a problem before it happens. But it's important to understand the requirements of specific applications."
"Let's take the value stream of the aerospace sector for example," he continued. "A cost effective airfoil inspection package is critical for us. The bottom line is, if you don't have a robust way to measure airfoils, the cost will be too high to sustain. That leads us to the next layer: OEMs making CMMs need to develop a robust package for this application. We're making headway in these areas but we still have a lot of ground to cover."
If you missed Advancing Quality in Manufacturing last year, stay tuned for info on upcoming events. Heading to SOUTH-TEC this October? Stop by Crotts & Saunders booth (#1719) to see the Revolution HB CMM in action.
Editor's Note: This blog was originally published in May, 2016 and has been updated and revamped for accuracy and timeliness.