HB Shines at EXPOMAQ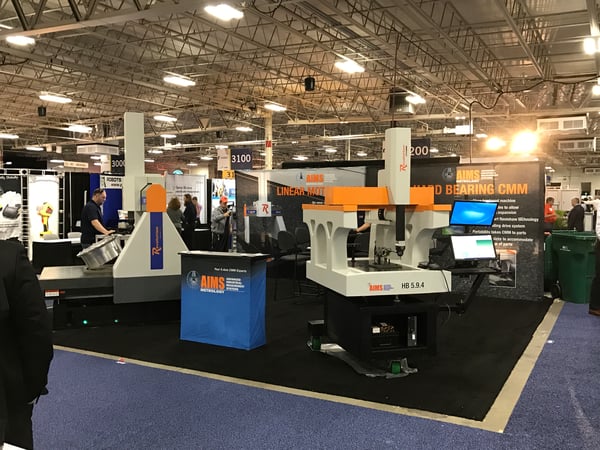 In April I attended EXPOMAQ at the Poliforum Exhibition Center in Leon, Guanajuato, Mexico. The show is held every two years and attracts more than 10,000 visitors from a wide range of markets. Metrology equipment is among the featured machines and technology advances. Guanajuato, the show's location, is considered the most dynamic state for automotive manufacturing with an annual growth rate of approximately 20 percent. Vehicle production is primarily located in the Bajío and fed by companies like Ford, General Motors, Honda, Mazda, Toyota, Volkswagen and BMW.
It's a fertile landscape for CMMs but a lot of the manufacturers I spoke with acknowledged that conventional CMMs are often a choke point, maintenance is expensive and service support lacking. Aerospace and automotive manufacturers in particular are looking for tools that can help improve accuracy and throughput because customers continue to ask for better part quality and shorter delivery schedules.
Last year Airbus delivered a new company record of 718 aircraft to 85 customers. Deliveries were more than 4 percent higher than the aerospace prime's previous record of 688 in 2016. Airbus booked 1,109 net orders from 44 customers. At the end of 2017, Airbus' overall backlog stood at 7,265 aircraft valued at $1.059 trillion at list prices.
Airbus is on track to achieve a 60-per-month build rate on the A320 family by mid-2019 and 10 per month for the A350 XWB by the end of 2018.
Boeing delivered 763 aircraft in 2017 – more commercial airplanes than any manufacturer for the sixth consecutive year – driven by output of 737 and 787 jets. The company grew its backlog with 71 customers placing 912 net orders valued at $134.8 billion at list prices. The total extends Boeing's backlog to a record 5,864 airplanes or approximately seven years of production.
Boeing raised production on its 737 program to 47 airplanes a month delivering a total of 529 aircraft including 74 new 737 MAX. Boeing continued building 787 Dreamliners at its highest production rate for a twin-aisle jet, leading to 136 deliveries for the year.
In the automotive arena manufacturers must equip themselves to cater to changing customer demands in very short timeframes. According to Deloitte, by 2020 customers will move beyond basic vehicles to embrace luxury cars and green technologies. Consumers will demand that their vehicles be connected to their computers, phones, work and home. OEMs will need the flexibility to meet regional customer requirements while adhering to strict quality requirements.
EXPOMAQ provided us with an opportunity to support Renishaw Mexico by installing our Revolution HB equipped with Renishaw's 5-axis PH20 probe head in their booth. Demonstrations of the HB led to some interesting conversations with visitors.
Unlike conventional CMM 3-axis touch-trigger measurement methods which attempt to speed up the motion of the machine's 3-axes to measure faster, the PH20's unique 'head touches' take measurement points by moving only the head. The rigidity of the HB's polymer cast, vibration-resistant base anchors the probe head. The result is rapid throughput and better accuracy.
The HB is the only mobile 5-axis CMM in the industry. The machine is able to boost throughput and improve inspection ratings. The HB has a unique undercarriage equipped with one steer and two stationary wheels which allow two operators to easily move the unit anywhere on the shop floor. A 110/220 volt outlet eliminates the need for shop air. A polymer-cast base includes built-in vibration resistance and thermal stability. Mechanical bearings add additional protection from the harsh shop floor environment.
AIMS service and support fills the gap that companies are currently experiencing with other CMMs. Following demonstrations at the show, visitors agreed the HB offered the best of both worlds; the perfect machine for the shop floor with 5-axis measurement capabilities. The CMM equips manufacturers like aerospace suppliers and automakers with the flexibility, accuracy and speed they need to stay ahead of the curve.