Manufacturing Day 2016 In Review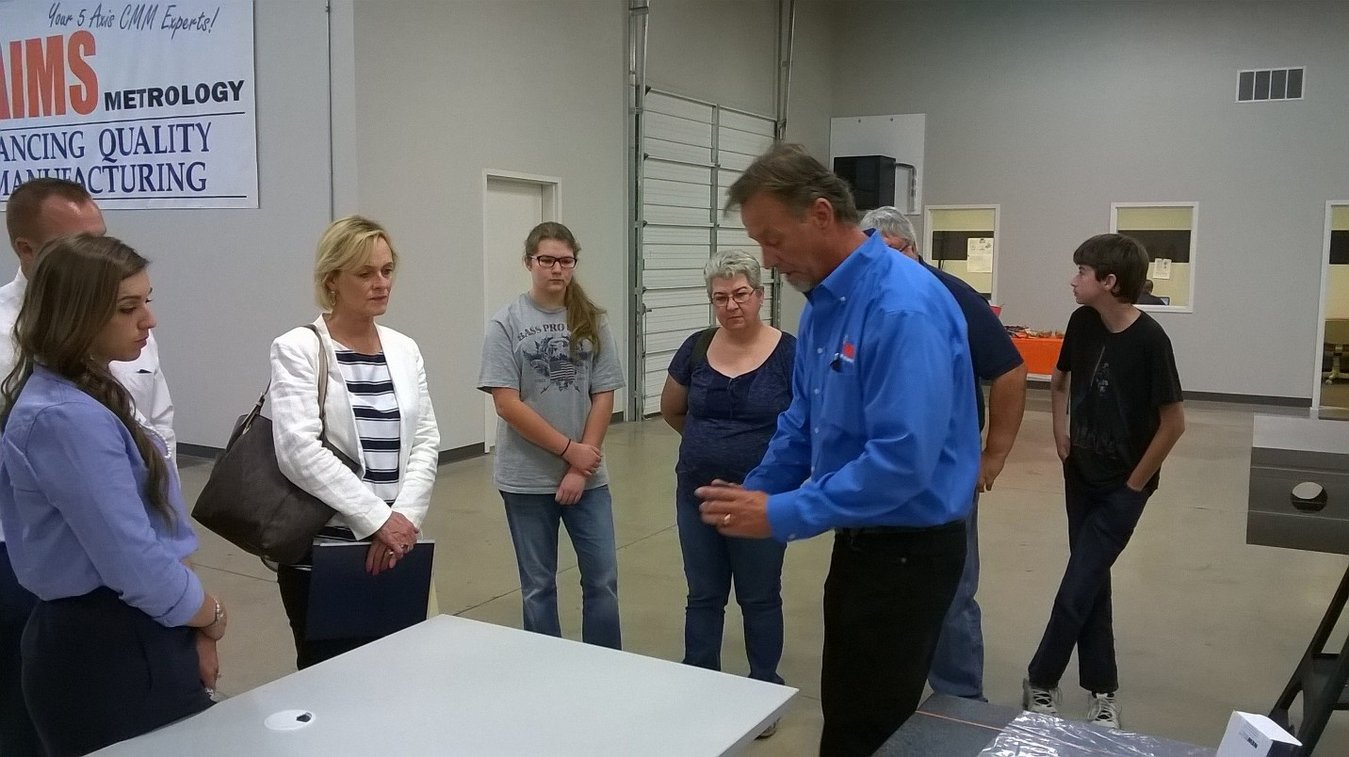 On October 7, AIMS Metrology joined more than 1600 organizations to participate in Manufacturing Day 2016. Along with companies across the United States, AIMS opened its doors to expose and inspire young people to the career possibilities in the high tech world of modern day manufacturing. This tradition began in 2012 when New Jersey Governor Chris Christie proclaimed the first National Manufacturing Day, and continued when President Obama signed a presidential proclamation in 2014.
On the first Friday each October, companies are influencing the next generation of workers by showing them what manufacturing is today, and what it isn't. And this is a good thing. A recent Deloitte study reported that the skills gap is widening, with approximately 3.4 million manufacturing jobs expected to open up over the next decade. Deloitte estimated that 60 percent of these positions may go unfilled due to a lack of credentialed workers. Executives responding to the study stated the skills gap will impact their ability to innovate, meet customer demand and provide good service.
Baby boomer retirements are expected to leave a surplus of 2.7 million jobs (the average age of an advanced manufacturer is 59). Adding to this surplus, economic expansion through natural business growth is expected to create an additional 700,000 jobs. Meanwhile, manufacturers' search to find the talent they need is hampered by the aforementioned retirements, a decline in technical education programs in public and private schools and a lack of certified STEM training.
While seemingly relegated to the category of "vocational jobs," today's manufacturers are producing advanced products that require specific skill sets in science, engineering and math. Some jobs also require the ability to weld and machine parts to tight tolerances, program software and perhaps even run a robotic production line using a remote, mobile device.
On Manufacturing Day in October, AIMS did its part to help close these gaps by opening its doors to 41 Miamisburg High School students, teachers and guests. AIMS staff introduced students to coordinate measuring machines and the concepts behind Renishaw's 5-axis measurement. AIMS Operations Manager Mike West (pictured above) showed how the equipment is used to measure parts to the submicron in support of the aerospace, automotive and medical industries.
Special guests included Marcie Longenecker from the office of Ohio Treasurer Josh Mandel, who presented AIMS with a Manufacturing Day proclamation. Also in attendance were Damon Morris, from the office of Ohio Attorney General Mike DeWine, and Zannah Staggs, program manager for the Dayton Region Manufacturer's Association. We'd like to thank these special guests as well as the students and others who participated. Here's to Manufacturing Day 2017!